ElectroCRUD 2
ElectroCRUD?
ElectroCRUD is Open Source Database CRUD (Create, Read, Update, Delete) Software. No Code Needed — Just in a few clicks, you can create a Database Admin/Dashboard/Whatever. Its Open Source — It's Free.
Why?
After a failed search for a basic admin panel that not involves writing code or installs web-based solutions, I come with ElectroCRUD idea.
ElectroCRUD v1
The ElectroCRUD v1 was born in 2016, An Electron application that made it possible to create a friendly dashboard with data tables, search, widgets, filter & relations with few clicks without any experience in programming.
ElectroCRUD v2
After a few years that the project was inactive, I decided to bring it an alive again. The codebase was build from scratch using Electron+Angular8. The new version contains most of the features of the first version, and new features added on a weekly basis.
From version 2.7.0 SQLite has been added, currently its very limited support but we working on full support for next version.
Functionality
MySQL Support
PostgreSQL Support
SQLite Support (limited support, work in progress)
SSH Tunnels (Keys & Password)
Accounts (represent a database)

Add / Edit
Test connection (ssh, db)
Export / Import

Views (represent a table)

Add new view & Edit view configurations
Data table with pagination
Search
Permissions (C,R,U,D)
Terminology
Selection of columns to display or search by
Add new record / Edit record
Edit record
Connect existing view as sub views
Export data in various formats like: csv, dump

Custom SQL Queries
Subviews (represent a sub table)
Views relations

Drill from view to view (subview)
Column based tables relation (left join)

View widgets (display aggragated data in the view)

Add / Edit / Remove widgets
Aggregation functions (AVG, SUM, MIN, MAX, COUNT)
Apply filters on widget data

View filters (build where clauses to filter the data)

Add / Edit / Remove filter in each view
One click apply / unapply on view data
Simple & friendly interface to build where clauses

Process manager (view running queries)
Export / Import of all user accounts.
Themes
Databases
MySQL/MariaDB
PostgreSQL
SQLite (Limited support)
MSSQL
Oracle
Download Binaries
Install via Package Managers
Homebrew/brew (Mac OS/X)
brew cask install electrocrud
Download Sources
How to Video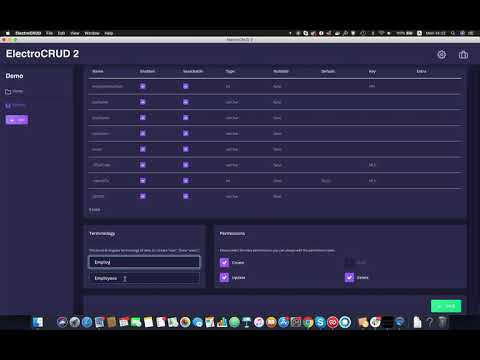 Screenshots